Brian Sullivan is one of the tens of thousands of Connecticut motorists who every year flunk the state's emissions tests simply because their check engine light was on when they arrived at a testing facility.
Sullivan of Waterford, raised two issues with me: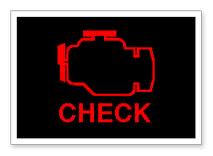 One, that he had no idea that Connecticut would automatically flunk a vehicle with a check engine light that is turned on. It's an issue that is probably valid in every state.
And second, even if the check engine light has nothing to do possible pollution, the car will not be even be inspected.
On the first complaint, Sullivan has a valid issue.
When I toured the Connecticut Emissions Program website www.ctemissions.com learlier this year I saw nothing that stood out warning me that if the light was on I would automatically flunk.
So I contacted William Seymour, the department veteran spokesman and former head of its complaint unit, who told me that there are warnings in the site, about the light.
Not good enough, I told him, since neither Sullivan nor I could find them.
I then suggested that the warning be placed clearly on the home page, where there was even unused space. Seymour agreed. Click here for the rest of the story
Similar Posts: