The Connecticut Condo Owners Coalition (CCOC), after successfully lobbying for two new bills to protect condo owners, has reorganized itself to better support, take action, and represent its membership.
In its goal of providing the best possible support to the Condo and HOA Owners in the state of Connecticut, CCOC has established a fantastic foundation of Executive Committee members who have the knowledge and expertise to provide condo owners help and support.
Brian Harte has been elected as President and Chairman of the CCOC.  He is a former member of his association's board of directors, a career law enforcement veteran, and has worked tirelessly on an amicable approach to communication with all members of the Connecticut General Assembly in the furtherance of its Legislative Agenda.
Brian, as legislative director of the CCOC's executive committee, was responsible for the successful adoption of two condo bills by the General Assembly last week: one to help the largest condo complex in Connecticut have a more democratic voting procedure and the second to make sure condo owners can have religious symbols on their doors. The bill would also raise the bar for property managers. Both bills await the governor's signatures.
Judith Rudikoff has been elected as Vice President and Co-Chair of the CCOC.  Judy has been a board member, treasurer and president of her condo association.  Her experience has been in membership development and marketing for several non-profit organizations, as well as copy editor for an international magazine.
George Gombossy, whom many may know as the name behind CTWatchDog.com, has been elected Marketing Director and Membership Coordinator.  George is a 43-year veteran journalist who served 14 years as Business Editor at the Hartford Courant, and many years as an investigative reporter. Those old enough might remember that George was the one who disclosed all the improprieties of Colonial Realty executives as well as their accountants.
Sandra Martinik, has been elected as Treasurer and Secretary and coordinates with George as part of the Membership Sub-Committee.  Sandi is a veteran in the insurance industry and is the former president and board member of her condo association.
Brian will continue his role as Chairman of the Legislative Action Committee and will work personally with lawmakers to further the collective goals of CCOC and condo owners throughout the state.
Judith and George are Co-Chairs of the Public Relations and Media Department and will facilitate press releases and communications to membership.
Sandra is the Chair of the Research and Development Department and will be taking on issues regarding models of other states and organizations to facilitate the mission of the coalition.
David Kelman, who started CCOC, retired last week from the Executive Committee. David has been named Chairman Emeritus.
While finalizing plans (CCOC is seeking input from its members) some decisions have been made:
First, CCOC plans to work with everyone who has a stake in making sure that condos are well run and are providing the best environment for unit owners without taxing board members. By 'everyone,' included is the Community Associations Institute-  Connecticut Chapter, with whom it will seek to open a dialogue to find areas of common interest.
Attention will be focused on one or two proposals for each legislative term. Each proposal must meet the following tests: it must benefit ALL condo owners, must NOT add an additional burden on boards of associations, and must NOT cost condo owners or taxpayers additional money.
CCOC's general goal is to help provide transparency and information to condo owners as well as to make sure that the principles and practices of democracy are maintained in all condo associations.
Because the proposal to establish an office of ombudsman does not meet all these criteria, it has been removed from CCOC's agenda, and in discussion is the possibility of asking one or more real estate attorneys to provide 30-minute to one-hour email/telephone consultations to members at a reduced fee.
Also, CCOC is in the process of establishing a new website which will help keep everyone informed about condo happenings throughout the state as well as provide ideas for best practices as its contributing journalists and cooperative attorneys will report.
The new website will be a dual site – www.CtCondoOwnersCoalition.com and www.CtCondoNews.com.  Either url will get to the same place, currently under construction by a top web designer who designed www.CtWatchdog.com and www.CtTalking.com.
Condo owners can sign up to be members by going to www.ctcondoownerscoalition.com and clicking on the sign-up for the mailing list.
When the web sites are completed – hopefully within a month – they will also have other purposes:  as a vehicle for lawyers handling condo issues to keep everyone abreast of developments, news releases to membership and the general public, and common interest articles.   It will also aid funding, via sponsorships and appropriate advertising, so that CCOC can avoid asking membership for annual fees. CCOC does  plan on becoming a non-profit organization and, once that happens, will accept tax-deductible donations.  Anyone interested in donating to help further the cause of the CCOC, please email CTCondoOwnersCoaltion@gmail.com.
And anyone interested in helping get the word out, have computer, design, writing, accounting, legal, management, database, and/or photography skills, please let CCOC know by sending an email to CTCondoOwnersCoalition@gmail.com.
CCOC is a progressive organization, working on behalf of all condo owners in Connecticut.  It hopes you'll join, as a member or more actively, to bring parity to all  in relationships with condo boards and management companies.
CCOC has structured its effort to work with all aspects of condo living to create the best possible dialogue and foundation.  Association board members are equally welcome to join, and it is believed that through a mutual effort, much can be accomplished.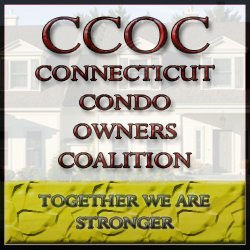 Similar Posts: