When considering buying a condo in a small complex, keep in mind the fewer the units the more potential there is for nightmares.
On the surface, everything may look fine in a complex with fewer than 50 units, but things can turn ugly quickly.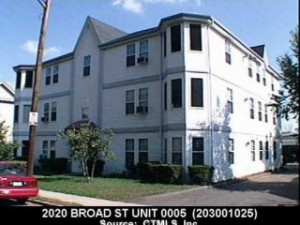 I am sure that the handful of people who purchased condos at 2020 Broad Street in Hartford had seen this column before purchasing their units in a complex with only 9 homes they would have investigated a lot closer.
And if they had, they would have found the associations financials in shambles, maintenance fees uncollected, no capital reserves, unpaid water bills, a lack of meeting minutes, contradictory financial documents, no budgets, and no bylaws, rules or regulations available. It raises questions as to what due diligence the real estate agents involved in the sales provided.
The tiny association and some of its owners are now in court suing the developer, who still owns one of the units. They claim that the developer failed to pay condo fees, and never provided full financial documentation or even bylaws to the people he sold units to. In total they are seeking more than $300,000 in damages.
Despite state laws requiring the developer to provide the association with full financial records as well as a complete set of bylaws within 30 days of turning the association over to the unit owners, few documents were given, the suit says. It is not even clear when the association was turned over to the owners.
Attorney Kenneth J. Krayeske of Meriden, who represents the Metro 2020 Condominium Association, says the bookkeeping had been so haphazard that unit owners have no idea what the association's financial situation is. Of course all this makes it difficult for the owners to now sell their units.
The suit claims that Charles J. Cowles of Glastonbury, who converted the apartments in condos, owes the association $93,675 from 1989 to the present on unpaid fees to the association including interest.
Click here to read rest of the story.
Similar Posts: