The number of Americans living in their own homes is at a 15 year low as more of us discover that renting is cheaper and easier.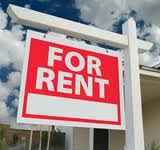 Despite record low mortgage rates, Americans don't have the higher down payments now required by banks or their credit ratings are shot.
Much of the increase in home buying, according to CNBC is coming from investors.
"The nation's home ownership rate ticked up a statistically insignificant basis point, from 65.5 percent in the first quarter of this year to 65.6 percent in the second quarter, according to the U.S. Census Bureau. Q1 was the lowest home ownership rate since 1997 and is down from the peak of 69.4 percent in 2004," writes Diana Olick.
"Given that home sales improved significantly during the first half of this year, you would think that home ownership rate should have surged higher, but the rate is calculated using only owner-occupied homes. If an investor buys one home or 100 homes, those homes are not even put into the calculation because they owner doesn't live in the homes. Realtors estimate around 20 percent of homes sales are currently to investors, but given bulk deals offered by the government and banks on foreclosed properties, that percentage is likely higher.
"The very modest increase in the home-ownership rate in Q2 does not persuade us to alter our view that the share of the population who own their home will fall further over the next couple of years," writes Paul Diggle of Capital Economics. "Meanwhile, supply conditions in the rental market are tightening, with a falling proportion of single and multi-family rental homes vacant."
Similar Posts: