If you owe money on your federal income tax, hiding from the IRS is the worst you can do. They will find you and the penalties are brutal.
But by being proactive you can lessen the pain. Ask the IRS to help out.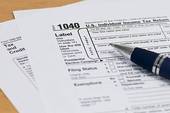 "The I.R.S. is pretty agreeable to things like installment agreements," Gregg Wind, a California CPA told the New York Times. The agency can have the funds automatically withdrawn from your bank account, or you can pay through a payroll deduction. There is a fee to set up the installment plan, which varies depending on your income and on the method of payment.
"Meanwhile, the I.R.S. recently announced changes to make it easier for people to catch up on back taxes through installment plans, without submitting extra paperwork. Now, you don't have to submit extra documentation unless you owe more than $50,000, up from $25,000 previously."
"If you think installments won't help — you simply won't have the money to pay the bill in the foreseeable future — you can try what's called an "offer in compromise," or a negotiated settlement. To do this, you make an offer to pay a lesser amount by submitting a proposal on Form 656.  If you owe, say, $5,000, Mr. Wind said, you can ask the I.R.S.: " Will you take $1,000?"
There's no guarantee that the I.R.S. will accept your offer, and there are lots of forms, financial statements and other paperwork to file, so the I.R.S. can evaluate whether your offer is reasonable. There's also a $150 fee to apply.
And if you or your spouse were unemployed for at least 30 days in 2011 or in the first quarter of 2102, the IRS will let you go six months without paying a penalty if you file your forms on time. For details.
Similar Posts: