The U.S. Department of Transportation has fined Southwest Airlines $200,000 for advertising cheap rates that it failed to provide.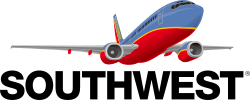 The fine, according, involved its "Luv A Fare Sale" from earlier this year when the airline offered one-way nonstop flights for less than $100.
However, the DOT says Southwest only offered the deals for one or two percent of the seats on some flights.
And, in another promotion, Southwest failed to offer the sale for any seats.
Southwest said part of the problem was a technical glitch.
However, it said that it made the one way "Luv A Fare Sale" available on 786 routes.
Similar Posts: