If you or your spouse were unemployed for a month or more in 2011 or through April 15, 2012, Uncle Sam has a special IRS break for you: You don't have to pay any penalty on taxes you owe for six months.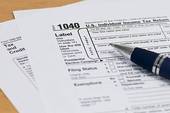 You still have to pay the 3 percent annual interest, but it is still a great deal.
There is a limit to those who had $100,000  in adjusted income and are single or if married, $200,000.
"This year, the I.R.S. is giving a break to those who were jobless. If you were unemployed for at least 30 straight days in 2011 (or in 2012, up to the the tax filing deadline on April 17), you can request a six-month extension to pay this year's tax bill without being charged a late-payment penalty (although you'll still be charged interest, currently 3 percent on an annual basis). To take advantage of the grace period and avoid paying your taxes until Oct. 15, you must file Form 1127," wrote Ann Carrns in the New York Times.
So file you taxes on time and then ask for an extension on paying any money you owe.
Similar Posts: