Investing money carries risk. The higher the potential return the higher the risk.
There is no risk of losing your principal if you deposit $100,000 in a bank CD. However, you will not earn any money either considering that inflation is higher than the return on CDs.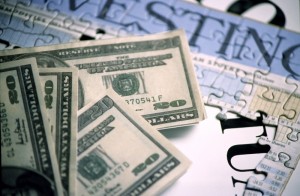 Other than for real estate, stocks, bonds, gold and silver, there is peer-to-peer lending, where the risks are higher but you might be able to earn 10 percent annual returns.
There are companies that bring investors and borrowers together and seem to do a good job separating the good borrowers from the deadbeats.
"They use this platform through the Internet to bring together and make the match between the borrower and the lender," Lori Schock, director of the Securities and Exchange Commission's Office of Investor Education and Advocacy told CNBC News.
"One of the reasons peer-to-peer lending has grown in popularity is because of tighter lending restrictions imposed by banks," the story says.
"For example, this process can help a borrower pay down debt. It is successful for borrowers if they have accumulated credit card debt and are stuck paying it back at a high interest rate. With peer-to-peer lending, borrowers may be able to receive a loan to pay off the debt and then pay back the loan to the private investor at a lower interest rate than offered by the credit card. Two of the largest peer-to-peer lending sites are now regulated by the SEC and are required to disclose information about the investment products."
"Joseph Toms, chief investment officer of Prosper, one of the major companies that brings borrowers and lenders together, says this type of lending is a friendly alternative." It is available to residents of Connecticut but not in Massachusetts.
MoneyTalksNews also looked at this investment vehicle:
Default rates. Fortunately, borrowers don't default all that often, because peer lending companies like Prosper and Lending Club screen applicants for their creditworthiness. Prosper requires a credit score of 640 (calculated through Experian) and may allow loan requests up to $25,000 based on the number. Lending Club only accepts applicants with "good" or "excellent" credit, and the "good" range starts at a FICO score of 660. Elsewhere on the site, they say they "approve fewer than 10 percent of loan applications."
Flexible risk and reward. Loan requests are graded based on credit risk and have corresponding interest rates. At Lending Club, average borrower rates for "A-Grade" loans are 7.39 percent, while riskier "G-Grade" loans can return 23.48 percent. Meanwhile, Prosper lists its ratings "AA" through "HR" and makes its best guess at the average loss rate for each rating based on historical data. As Stacy mentioned in the video, you can reduce your risk by spreading your money across several loans at the risk levels you're comfortable with – and, of course, by paying attention to the applicants. The guy Stacy interviewed in the story above only lends $25 to any given borrower.
Similar Posts: