I recently presented at the American Journal of Health Promotion Conference in Colorado Springs. This journal and conference is devoted to the art and science of health promotion and I presented my metaphors for mindfulness.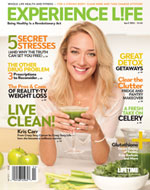 The conference highlighted some important statistics about health and well-being. It also introduced me to Experience Life Magazine, a practical, grounded, non-sensationalistic publication devoted to health promotion. In fact, they claim that "Being Healthy is a Revolutionary Act."
To this end, Experience Life's editor-in-chief, Pilar Gerasimo wrote an article entitled, Being Health Is a Revolutionary Act: Renegade Perspective for Thriving in a Mixed-Up World. Here are some chilling facts cited in the article:
• More than two-thirds of the U.S. population is currently overweight or obese.
• Only 26 percent of us eat anything close to the five servings of vegetables and fruits considered essential for decent health — and a far tinier fraction get the six to nine servings recommended for optimal     well-being.
• Only about 30 percent of Americans report getting any kind of regular exercise. Studies suggest that fewer than 10 percent get daily exercise.
• About one in two adult Americans suffers from at least one chronic illness.
• More than half of U.S. adults are on one or more prescription drugs at any given time.
• The percentage of U.S. children and adolescents with chronic health conditions has nearly quadrupled in the past 40 years, from 1.8 percent in 1960 to 7 percent in 2004.
• One out of two men, and one out of three women, will be diagnosed with cancer in their lifetimes.
• In terms of overall well-being and life satisfaction, recent psychological research by Barbara Fredrickson, PhD, et al., shows only about 20 percent are thriving. The remaining 80 percent appear to be just getting by, or "living lives of quiet despair."
She also wrote a Manifesto for Thriving in a Mixed Up World: Ten Truths We Hold to be Self-Evident a field guide for thriving.
It is worth your time to read these (Experience Life Magazine is available at Whole Foods and Barnes & Noble).
One of the grave take home messages from Being Healthy is a Revolutionary Act is that much of our healthcare dollar is spent on treating chronic conditions that are affected by lifestyle. In other words, if we all took better care of ourselves. we'd spend less on health care — much less.
If we don't join the revolution, the country will bankrupt itself paying for avoidable conditions.
It makes sense to eat well, exercise, and manage stress effectively. This comes, in part, from eating well and exercising, as well as by attending to our psychological needs through mindfulness.
The conference was a reminder of the mind-body split, a conceptual habit in the intellectual life of the West for hundreds of years. The idea that something could be "all in your head" is absurd, yet this persists in medicine. In fact, we have separate disciplines for neurology and psychiatry and the completely separate field of psychology. This does not make sense. All mind is informed by body (and there is no mind without brain, which of course is part of the body); all body is informed by mind.
Mindfulness solves the mind-body problem by having us pay attention to the present moment happenings in our body. We need to do this in order to think, in order to make decisions, and in order to know what we want. We also need to pay attention to the body to manage stress — we have to know what is happening in the body just now.
To learn more about how to live in the present moment and how to increase our connection to compassion read my books. I'm pleased to announce the publication of my latest, The Everything Buddhism Book. It's an accessible yet comprehensive introduction to Buddhism with my practical, contemporary, and somtime irreverent perspectives.
Arnie's books are available for order below and his free guided meditations are also available below.
For more information on mindfulness and additional guided practices, visit my website Exquisite Mind. The complete CD 1, CD2, CD3, CD4, and CD5 are now available for listening and download, free. Visit here for a guided breathing and body scan meditation; walking and standing and standing yoga, mindful yoga, and the mind scan and emptiness practices, and.
Arnie Kozak, Ph.D. is a clinical psychologist, meditation instructor, and author of Wild Chickens and Petty Tyrants: 108 Metaphors for Mindfulness(Wisdom, 2009) and Everything Buddhism (available on Amazon now). 108 Metaphors for Mindfulness has been translated into Spanish and Chinese. Arnie also the founder of the Exquisite Mind in Burlington,Vermont and writes a daily blog entitled Mindfulness Matters: Tools for Living Now!
You can practice mindfulness meditation every morning from 8:00 to 8:45 (EST) in the eMindful.com online classroom. To login into this free meditation, click here.
As an expert in stress reduction, wellness, and mindfulness, Arnie will present weekly practical wisdom for transforming stress. His award-winning writing will help you to lead a richer and happier life.
Similar Posts: