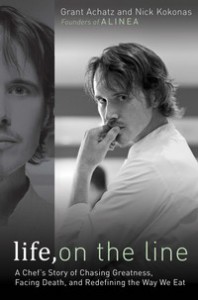 If you caught Fresh Air earlier this week you heard a fascinating interview with Grant Achatz, master chef and co-founder of the Alinea restaurant in Chicago. Dinner there comprises 23 courses with unexpected flavor combinations. His style is part of a movement called molecular gastronomy.
Two things struck me about this interview and the memoir Achatz wrote, Life, on the Line: A Chef's Story of Chasing Greatness, Facing Death, and Redefining the Way We Eat.
The first concerns how we eat. Alinea serves 23 very small courses to keep the flavors changing, fresh, and alive. When we eat a large portion of something like a big steak, our taste buds habituate to that taste after the first few mouthfuls. Alinea changes the dish before that habituation can occur.
The second concerns the ironic and tragic tongue cancer diagnosis that Achatz received at that age of 32. Rather than having his tongue surgically removed he opted for radical chemo and radiation treatment. This left him without the ability to taste for some time. He said of the experience:
"It was very strange to not be able to discern any flavor at all," he says. "It's funny because, clearly, you know you have to eat to live. But even knowing that, for me, there was no reason to eat. I had no interest in eating whatsoever. I would put something in my mouth — say a vanilla milkshake — and it tasted like nothing."
The opportunity here is to savor every moment. We take things like our senses for granted, but an illness can put that at risk. We tend to take our food for granted and eat on automatic pilot. I'm not sure how much a 23 course meal at Alinea costs, but you don't have to go to that extreme to savor each moment.
When we give our full attention to an experience, such as eating, we can gain a sensory richness that awakens us to the reality of the moment. Anything that can take us out of automatic pilot can serve to disrupt the stress cycles that constantly beset us.
So why not try giving your full attention to something you eat, even something as small as a raisin. Bring your five senses to bear on the experience. What does your food look like?  What does it smell like? What does it sound like? What does it feel like? What does it taste like? When your attention wanders into the future, past, or commentary upon the present bring your attention back to the sensory qualities of this moment of eating, and enjoy!
To learn more about how to live in the present moment and how to increase our connection to compassion read my books. I'm pleased to announce the publication of my latest, The Everything Buddhism Book. It's an accessible yet comprehensive introduction to Buddhism with my practical, contemporary, and somtime irreverent perspectives.
Arnie's books are available for order below and his free guided meditations are also available below.
For more information on mindfulness and additional guided practices, visit my website Exquisite Mind. The complete CD 1, CD2, CD3, and CD4 are now available for listening and download, free. Visit here for a guided breathing and body scan meditation; walking and standing and standing yoga, mindful yoga, and the mind scan and emptiness practices.
Arnie Kozak, Ph.D. is a clinical psychologist, meditation instructor, and author of Wild Chickens and Petty Tyrants: 108 Metaphors for Mindfulness(Wisdom, 2009) and Everything Buddhism (available on Amazon now). He also the founder of the Exquisite Mind in Burlington,Vermont and writes a daily blog entitled Mindfulness Matters: Tools for Living Now!You can practice mindfulness meditation with Arnie every Friday morning from 8:00 to 8:45 (EST) in the eMindful.com online classroom. To login into this free meditation, click here.
As an expert in stress reduction, wellness, and mindfulness, Arnie will present weekly practical wisdom for transforming stress. His award-winning writing will help you to lead a richer and happier life.
[ad#uconn468]
Similar Posts: