From California to the East Coast investigators are discovering an alarming trend of mislabeling fish, posing as a real danger for those with food allegies.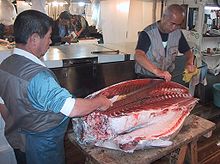 In its latest study, Oceana said that about 40 percent of the seafood it tested in New York City is mislabeled – many of them in sushi bars. This follows Oceana's previous reports showing that Los Angeles had a 55 percent mislabeling rate. Miami 31 percent and Boston had a 48 percent rate.
"Oceana's studies have shown this is not just a regional problem, but a widespread, nationwide issue that needs federal attention. Federal agencies and Congress should take notice and act to stop seafood fraud," say the authors of the study.
"Oceana said the findings are particularly troubling given that seafood ranks among the top eight food allergens. And since fish allergies are often species-specific, experts say the bait-and-switch opens the door to dangerous exposures," says ABC News.
"If [a person] is  not allergic to the fish they think they are getting, and that fish is substituted with one to which they are allergic, they obviously could have a serious allergic reaction," said Dr. David Fleischer, an associate professor of pediatric allergy and immunology at National Jewish Health in Denver, Colo. "Patients need to be able to trust the people they purchase fish from."
The following are the key findings of the report:
 • 58 percent of the 81 retail outlets sampled sold mislabeled fish (three in five).
• Small markets had significantly higher fraud (40 percent) than national chain grocery stores (12
percent).
• 100 percent of the 16 sushi bars tested sold mislabeled fish.
• Tilefish, on the FDA's do-not-eat list because of its high mercury content,1 was substituted for red
snapper and halibut in a small market.
• 94 percent of the "white tuna" was not tuna at all, but escolar, a snake mackerel that has a toxin
with purgative effects for people who eat more than a small amount of the fish.
• Thirteen different types of fish were sold as "red snapper," including tilapia, white bass,
goldbanded jobfish, tilefish, porgy/seabream, ocean perch and other less valuable snappers.
Here's a table of commonly substituted fish from the report:
| What You Bought | What You Got |
| --- | --- |
| red snapper | Caribbean red snapper, crimson snapper, goldbanded jobfish, ocean perch, porgy/seabream, spotted rose snapper, tilapia, tilefish, white bass, yellowtail snapper |
| white tuna | escolar |
| halibut | tilefish |
| wild salmon, king salmon | rainbow trout, farmed Atlantic salmon |
| Pacific cod | farmed Pangasius "catfish" |
| grouper | Nile perch, bream |
| lemon sole | summer flounder, blackback flounder |
| striped bass | white bass |
Similar Posts: