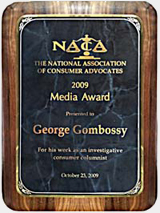 The National Association of Consumer Advocates (NACA) presented George Gombossy with NACA's 2009 Media Award at its annual meeting held recently in Philadelphia. The award last year was given to two reporters from Business Week.
Gombossy was the first investigative consumer columnist in the Hartford Courant's history, and unfortunately, probably its last, as he was fired on Aug. 14, 2009, after refusing to "be nice" to the paper's major advertisers. For over three years, Mr. Gombossy served as the advocate for Connecticut's consumers, working with thousands of readers who sent him complaints and tips. His Watchdog columns resulted in more than a dozen state investigations and improved customer service at many local and regional companies. He continues to rattle the chain of big business with his www.CtWatchdog.com website.
During his 40-year career at the newspaper, Gombossy led teams of reporters that won dozens of awards, including the George Polk Award and the American Bar Association's Silver Gavel Award. He helped the paper win its first Pulitzer Prize.
"NACA is pleased to be able to recognize those who have done outstanding work on behalf of consumers," commented Ira Rheingold, executive director of NACA. "George Gombossy has taken a stand on behalf of the consumers in Connecticut, and we applaud him for his clear voice in promoting consumer's rights."
The NACA honors are awarded annually on the basis of achievements in key NACA issue areas, including all forms of forced arbitration, identity theft, mortgage lending and home equity scams, automobile fraud, unlawful and abusive business and debt collection practices, unfair credit reporting, and abusive practices by financial and credit card institutions.
NACA and its members take an active role in advocating consumer interests before the courts, Congress, and administrative agencies. In filing amicus briefs in a number of leading consumer protection cases, NACA members advocate in support of pro-consumer legislation and policies, and in opposition to the erosion of existing rights.
Watchdog Firing Just Part Of Downhill Path
For Once-Great Paper, Consumer Attorney Says
Rocky Hill consumer attorney Dan Blinn nominated George Gombossy, editor & publisher of CtWatchdog.com, for the National Association of Consumer Advocates' 2009 Media Award.
Blinn presented the group's highest journalism award on Oct. 23 at its annual convention in Philadelphia.
These were his prepared remarks:
Before I introduce George Gombossy, the winner of our Media Award, let me tell you a little bit about his former employer and my hometown newspaper, The Hartford Courant.
Yankee traditions run deep in New England, and few run deeper than the Courant. Originally known as the Connecticut Courant, the paper was first published in 1764, making it the oldest continuously published newspaper in the United States.
This is the newspaper in which George Washington took out an advertisement when he was looking to lease a portion of his Mount Vernon estate. Noah Webster's "Blue Back Speller" was first published in the paper. Thomas Jefferson once sued the Courant for libel – he lost.
As the nation was being divided over slavery, the paper's editor was impressed by a visit to Hartford by an Illinois congressman who spoke eloquently in support of the newly formed Republican Party.
The Courant endorsed Abraham Lincoln for president, and following his election in 1860, the headlines read: "Victory, Victory, We've Got 'em." The Courant continued to endorse Republican presidential candidates for 132 years until its endorsement of Bill Clinton in 1992 gathered national attention.
When I first moved to Connecticut in 1987, I was pleased to find that the Courant's news coverage was expansive, its reporting was comprehensive, its columnists were engaging, and its editorial page was provocative.
Speaking with relatives and friends who were themselves journalists, I learned that the Courant had a reputation for being a very fine newspaper that was superior in many respects to many publications in larger cities and with broader circulations.
Indeed, the Courant won Pulitzer Prizes in 1992 and 1999, and its reputation as the newspaper of record for the entire state of Connecticut was firmly established as we entered the new millennium.
One of the Courant's brightest stars at that time was its business editor, George Gombossy. During his 40-year career at the newspaper, George led teams of reporters that won dozens of awards, including the George Polk Award and the American Bar Association's Silver Gavel Award.
He helped the paper win its first Pulitzer Prize.
Under his direction The Courant won the SABEW Best in Business award for overall quality among midsize newspapers four times and he directed the work of two Gerald Loeb Award finalists. At least five of his investigative series were nominated by The Courant for the Pulitzer.
Three years ago, the Courant asked George to take on a new role – they asked him to become The Watchdog – an advocate for consumers.
The intent of the column was for George to open up a dialogue with readers, seek to resolve complaints, and provide his readers with information that would help them in their daily lives as consumers.
The Watchdog column and George's blog exceeded all expectations. The Watchdog quickly became one of the most widely read features in the newspaper. When George picked a subject for his column, businesses and regulators both took notice – and he got results.
The Courant took notice, too. His performance review ratings were "Exceptional," "Exceeds Expectations." And, the Courant was spending significant money promoting the Watchdog column.
Then, in March 2009, the economic pressures that have challenged newspapers throughout the country descended upon Hartford. The Tribune Company, the Courant's corporate parent, announced that it was merging the newspaper operations with two television stations were Tribune-owned.
It named Richard Graziano, the general manager of the television stations, as the Courant's new publisher. A month later, it named Jeff Levine, an executive with a marketing background, as the Courant's new senior vice president and director of content.
The shift in emphasis was obvious, and this once-fine institution was being taken over by people who were more concerned with entertainment and advertising than by the hard-nosed investigative journalism that George Gombossy was known for.
Very shortly after he joined the Courant, Jeff Levine, the marketing man who was now in charge of the Courant's content, told George that he had received a complaint from a plumbing company that was upset about columns that George had written disclosing numerous serious consumer complaints and a pending state investigation into allegedly unethical and improper activities by that company.
Levine told George that this company was a major advertiser and that the Courant couldn't afford to have them angry at it. He asked George to go to their offices and "be nice" to them.
George refused, stating that would be unethical and that Levine would have to fire him because he would not comply with that.
A few months later, George published in his Watchdog blog a complaint by a reader about another major Courant advertiser – this time a supermarket. Within a couple of hours, George published the supermarket's response.
The supermarket complained. Levine was outraged that George had posted the complaint – even though, prior to this time, George had received nothing but praise for his column and his blog, both of which he published without any restrictions and little supervision.
Levine told George during a meeting that Levine would decide whether the column and blog would continue and who would write them. He told George to continue writing them but told George that he was required to alert Levine if he planned to write any columns or blogs or even reader responses that might negatively impact on an important advertiser.
Now, prior to this meeting, George had received several complaints about Sleepy's, the largest mattress retailer in the country and in Connecticut and a major advertiser in the Courant.
George had learned that the state attorney general was investigating complaints that Sleepy's was selling used mattresses, one of them infested with bed-bugs, as new ones. George notified the Courant that he intended to publish an article about the investigation, and he gave them a draft.
The article was scheduled to run on August 2, but was held back without explanation and after it was approved by his editor. The next day, George was informed that his position was being eliminated and that a new position was being created that would not include investigative reporting.
He was not asked to apply for the new position, nor was it offered to him. This decision was made immediately after a major marketing expenditure promoting the Watchdog column.
George refused to accept a severance package from The Courant, valued in the six digits, because it contained a gag order and a prohibition against bringing any legal action.
Within hours of leaving his company on Aug. 14, George launched his own website – CtWatchdog.com – where he published the Sleepy's column The Courant would not and he disclosed The Courant's unethical requirements for him and for other Courant columnists and reporters.
He and his lawyer, Joseph Garrison of New Haven, have filed a wrong termination suit against The Courant and its parent company, Tribune, under Connecticut's powerful Free Speech Statute which protects free speech rights in the workplace.
If successful, the suit will provide additional protection for all journalists in Connecticut, by requiring media to either be ethical or remove all written ethics or mission statements that claim that everyone is treated fairly by that media. By refusing to compromise his journalistic integrity, George Gombossy embodied the highest ideals of a journalist.
This cost him his job, ending a 40-year career with the Hartford Courant. His departure represents the most recent step in the steady decline of what was once a great institution.
We used to read about propane gas vendors were overcharging consumers for tank rentals. Now we get tips on how to get discount tickets to the circus.
We used to read about how drivers were being overcharged for involuntary tows. Now, we learn about a yoga studio offering a free introductory class.
Thankfully for Connecticut's consumers, George has continued his work, launching one of the best websites I have seen – ctwatchdog.com.
All of you should be checking it out, because if there is a scam going on, this is probably where you will hear about it first.
For his courage, and in recognition of his tremendous portfolio of work that has benefited consumers in Connecticut and beyond, we are tremendously pleased to award George Gombossy the National Association of Consumer Advocates Media Award.
Similar Posts: